Editorial
The Return of Phenomenology to European Psychology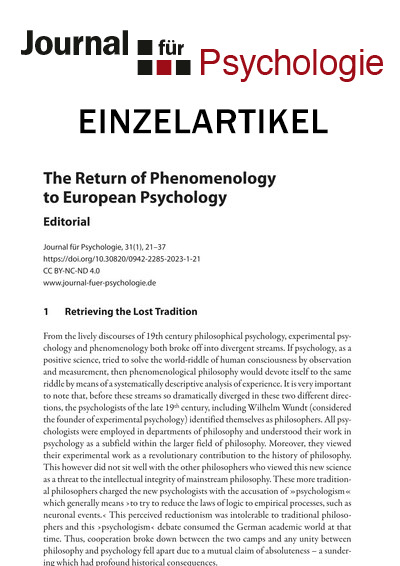 Downloads
Zitationsvorschlag
Wendt, Alexander Nicolai, Ralph Sichler, und James Morley. 2023. "Editorial: The Return of Phenomenology to European Psychology". Journal für Psychologie 31 (1):21-37. https://doi.org/10.30820/0942-2285-2023-1-21.
Lizenz
Dieses Werk steht unter der
Lizenz Creative Commons Namensnennung - Nicht-kommerziell - Keine Bearbeitungen 4.0 International
.
Die Bedingungen der Creative-Commons-Lizenz gelten nur für Originalmaterial. Die Wiederverwendung von Material aus anderen Quellen (gekennzeichnet mit Quellenangabe) wie z. B. Schaubilder, Abbildungen, Fotos und Textauszüge erfordert ggf. weitere Nutzungsgenehmigungen durch den jeweiligen Rechteinhaber.