Competences of teachers and other educational professionals as condition for the success of inclusive vocational guidance in general and vocational schools, exemplified on organizing work placements for students
Schlagworte:
inclusive vocational guidance, student internships, school development, teacher professionalization
Abstract
Work placements for students bridge the gap between school and the world of work and the vocational training system. They are part of a comprehensive set of measures for vocational orientation and are organized by a multi-professional team of different actors, such as teachers and other educational staff involved in the process of secondary education and professionals working in institutions that accompany the transition. Though little research has been done on inclusive vocational guidance, it can be assumed that complexity of this process will increase with new cooperations. This article presents results from multi-professional group discussions with participants from various institutions and derives competences for inclusive vocational guidance in schools. The results point to the necessity of identifying fields of action, investigating cooperation between actors within the school system and, above all, determining knowledge references that arise subject-specifically for inclusive vocational orientation from the needs of students with special educational needs.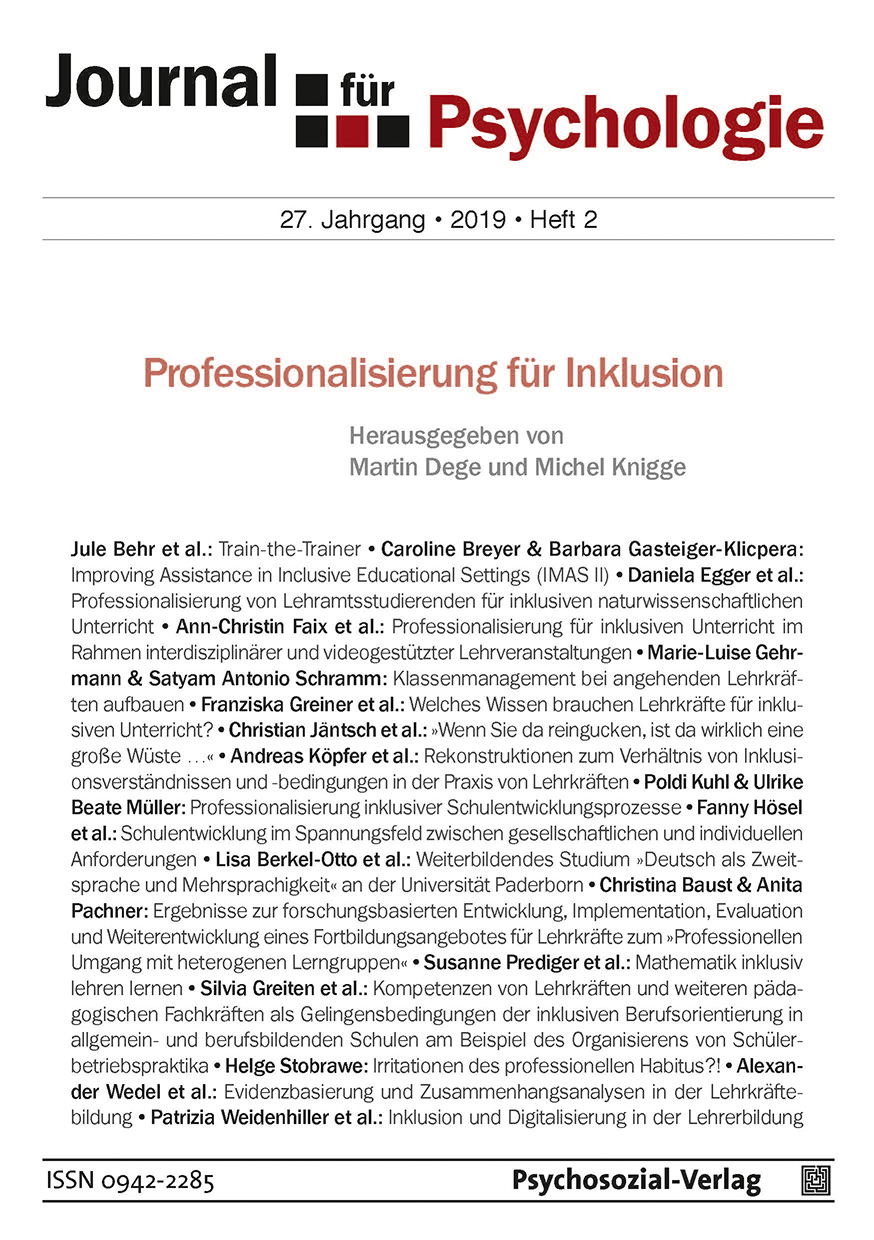 Downloads
Zitationsvorschlag
Greiten, Silvia, Thomas Bienengräber, Thomas Retzmann, Lütfiye Turhan, und Marie Schröder. 2020. "Competences of Teachers and Other Educational Professionals As Condition for the Success of Inclusive Vocational Guidance in General and Vocational Schools, Exemplified on Organizing Work Placements for Students". Journal für Psychologie 27 (2). https://doi.org/10.30820/0942-2285-2019-2-313b.
Lizenz
Copyright (c) 2020 Journal für Psychologie
Dieses Werk steht unter der
Lizenz Creative Commons Namensnennung - Nicht-kommerziell - Keine Bearbeitungen 4.0 International
.
Die Bedingungen der Creative-Commons-Lizenz gelten nur für Originalmaterial. Die Wiederverwendung von Material aus anderen Quellen (gekennzeichnet mit Quellenangabe) wie z. B. Schaubilder, Abbildungen, Fotos und Textauszüge erfordert ggf. weitere Nutzungsgenehmigungen durch den jeweiligen Rechteinhaber.